GIVING BEST TET GIFTS TO START
A HAPPY AND LUCKY YEAR WITH TOPS MARKET
Tet gift is a tradition of Vietnamese
Every year, whenever you see vibrant colors appearing at shopping places and people on the street getting busier, that's when the Lunar New Year is coming. This is also the moment for people to look back on the past year and wish for a better new year. Unlike the Western tradition of giving Christmas gifts, Asian New Year gifts have more meaning than just expressing love. A Tet gift can be a word of gratitude to someone who has helped, a message of deep friendship or hopes for the year to come.
Because of the importance of giving Tet gifts, choosing gifts to fully express your heart is what people care about every spring. Tet gifts have changed a lot. Let's take a look at Tops Market's suggestions for Tet gifts for this year of the Cat 2023.
Kinds of Tet gifts
Looking back at the old Tet holidays, Vietnamese gave each other super practical gifts due to poor conditions. These are familiar items, sometimes simple but fit with daily needs. When visiting the elderly, people often give tonics; for neighbors, people often choose sugar, salt, and typical food for Tet. Today, the quality of life has changed. We can show our careness in a better way. A hamper of special products to specific dietary or health concerns would be the perfect choice. Tops Market introduces you to a series of healthy Tet gifts: Premium Vegan Well Being; Exclusive Organic; Eat Well Live Well 1; Eat Well Live Well 2…
Premium Vegan Well Being: Sweets, dried fruit, high-end healthy vegetarian dishes.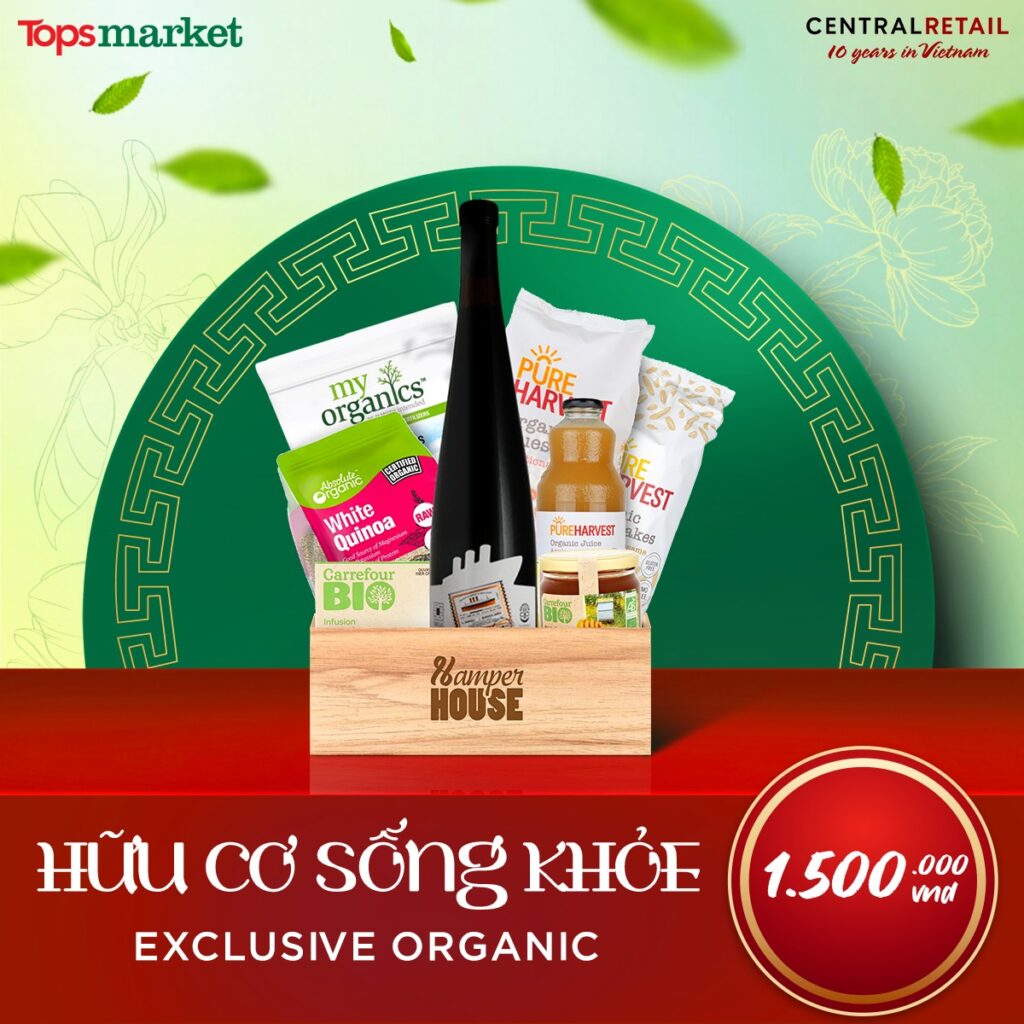 Exclusive Organic: Exclusively imported organic wines, teas, and dried fruits.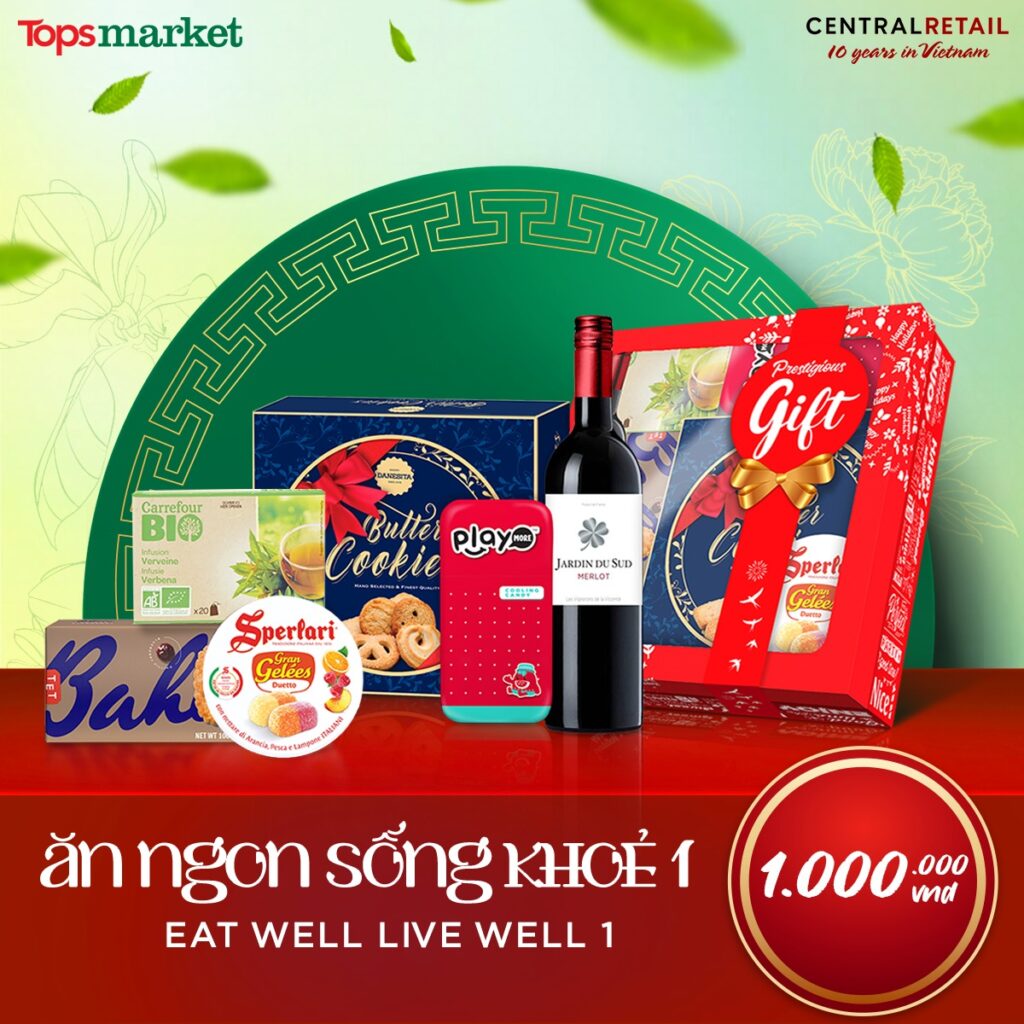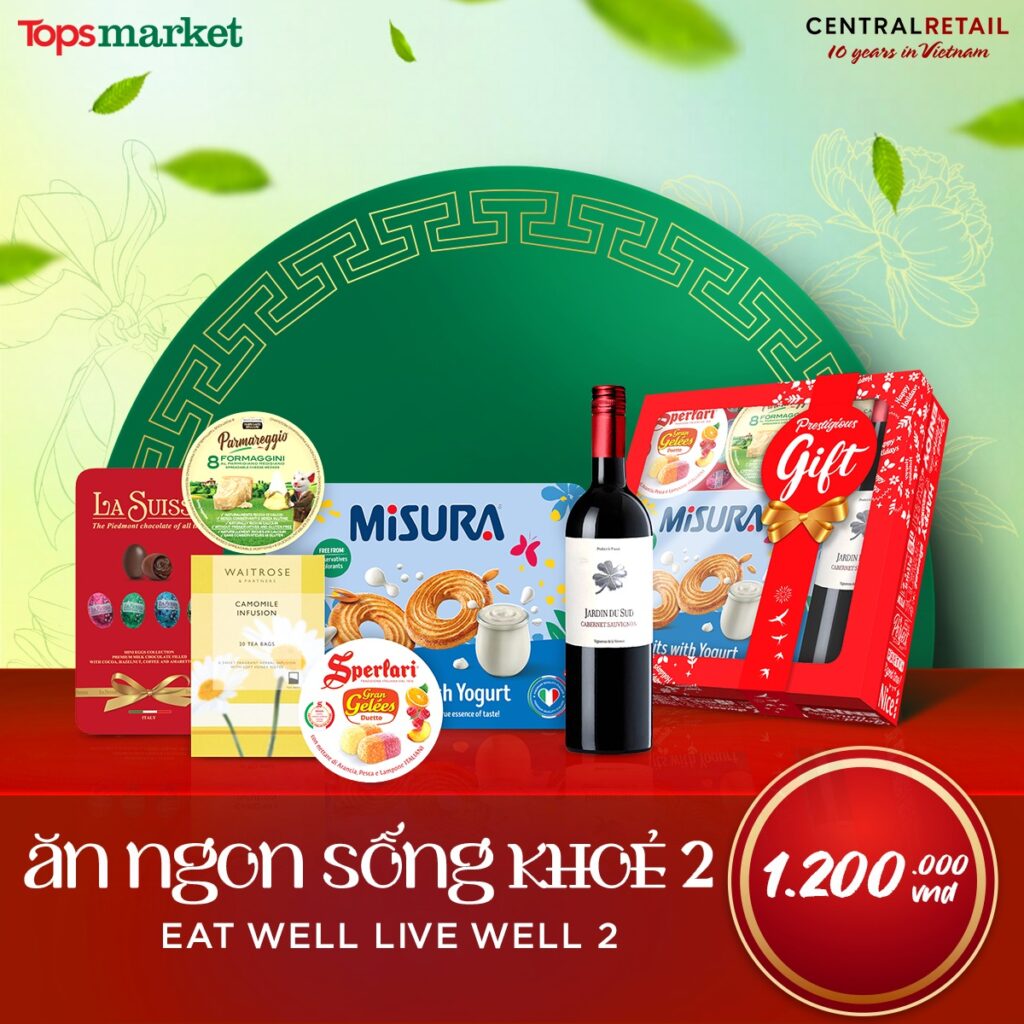 Eat Well  Live Well: Harmoniously combine sweets, tea, and wine in a hamper that is both attractive and healthy.
Another very popular type of gift is those with a message. The name or feature of the gift can accidentally create a meaningful wish. Vietnamese people give each other a bottle of cooking oil, implying that they wish a rich year ("oil" in Vietnamese sound like "rich)"; sweet jams for wish a sweet year; watermelon for a lucky year (because of its red color) or even fish sauce can be the wish of a nice year (because of the strong taste)… If you want to choose a more sophisticated and luxurious way to express your wishes, you can refer to the high-class hampers, packed by Tops Market that are called: Hello Spring; Blooming Spring; Prosperity Spring; Meaningful Wishes…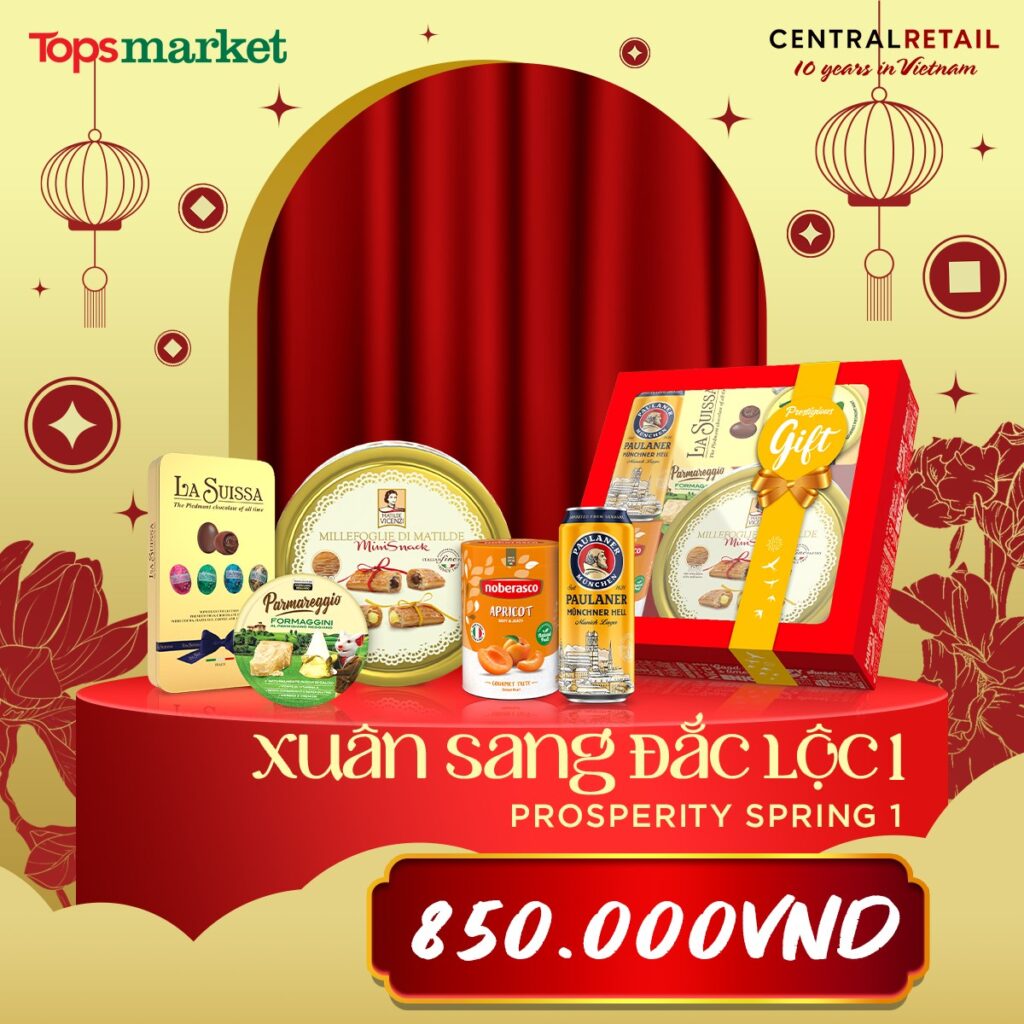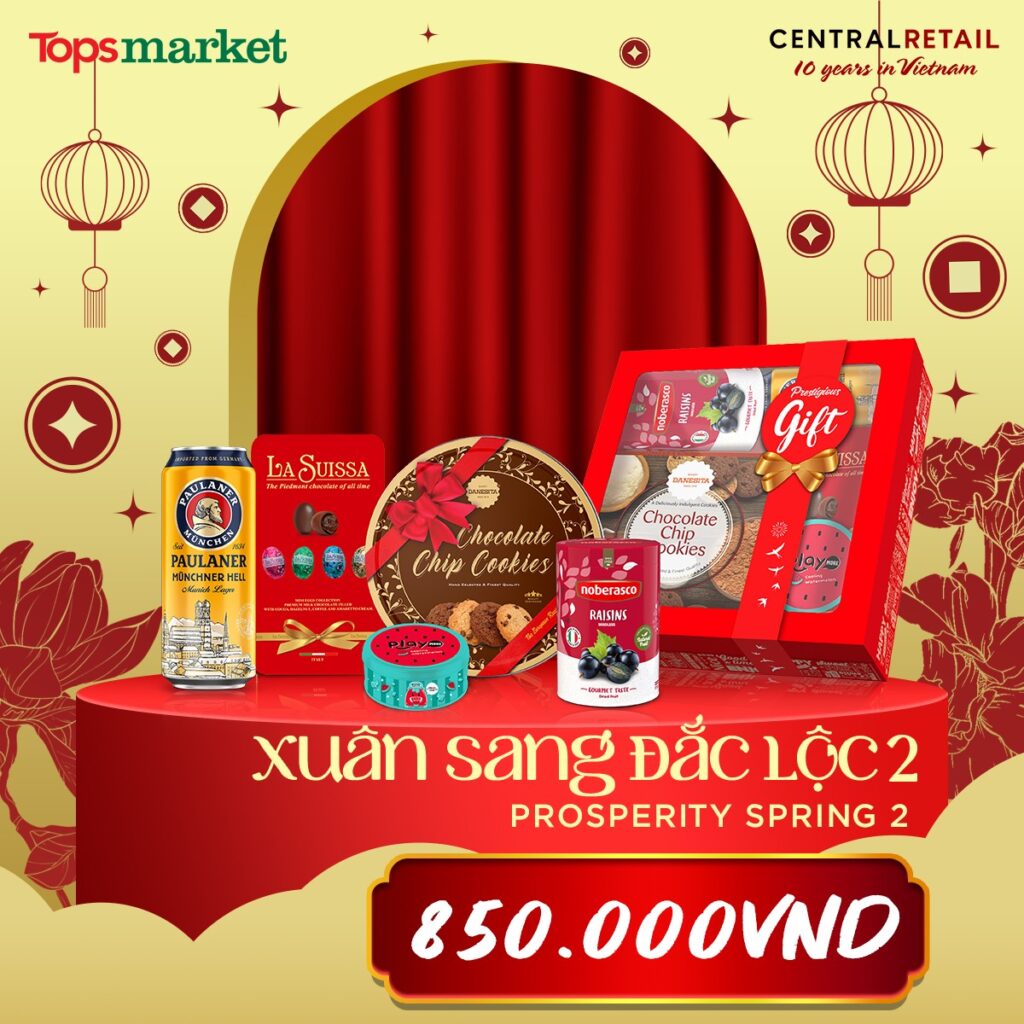 Prosperity Spring: High-quality sweets and drinks for prosperity.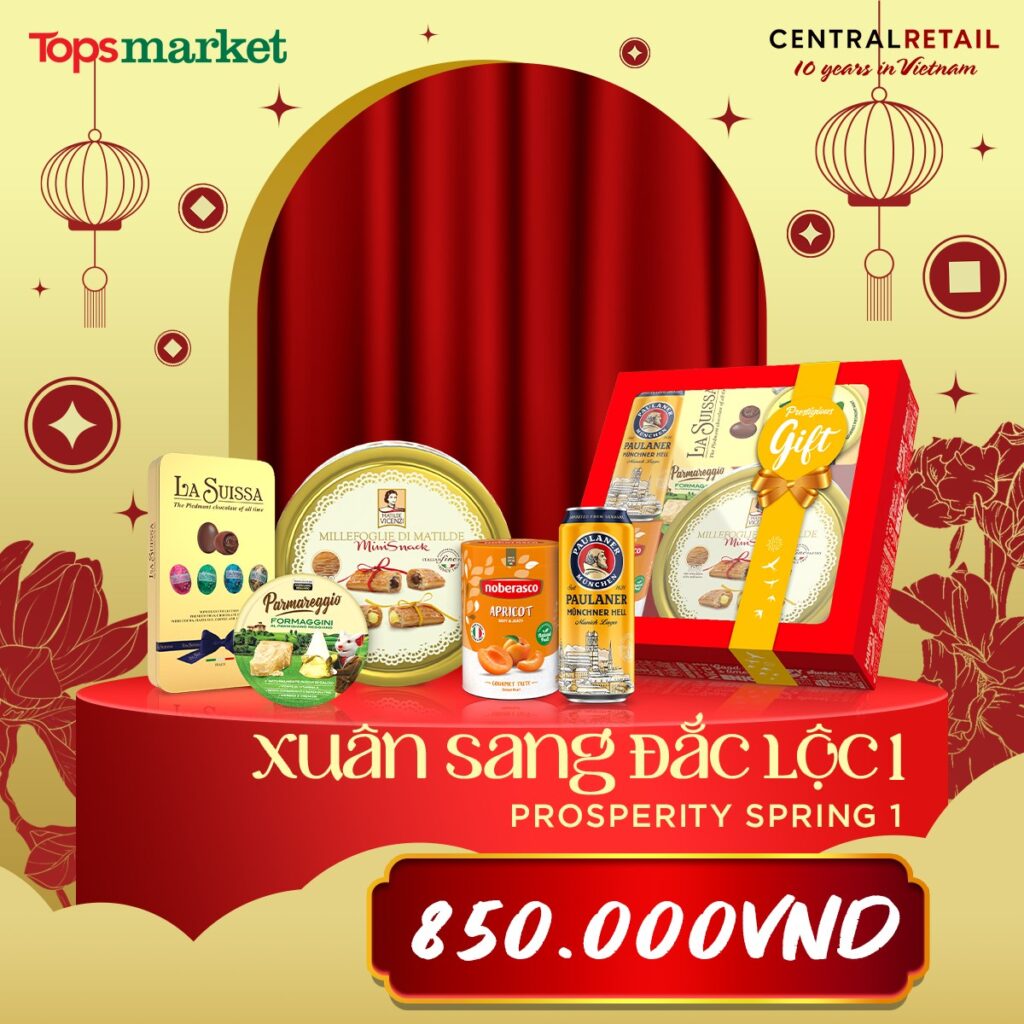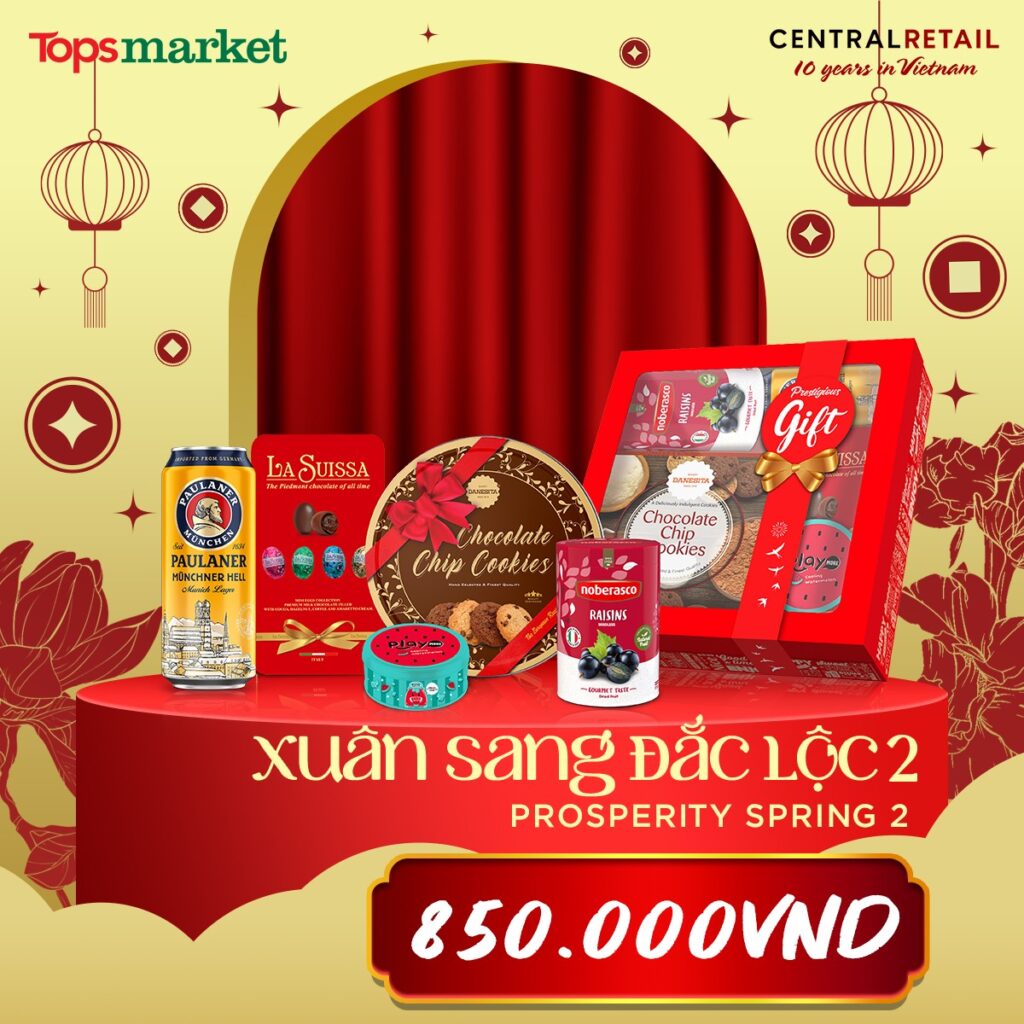 Hello Spring: Streamlined gift basket, eye-catching design to make your spring day more colorful.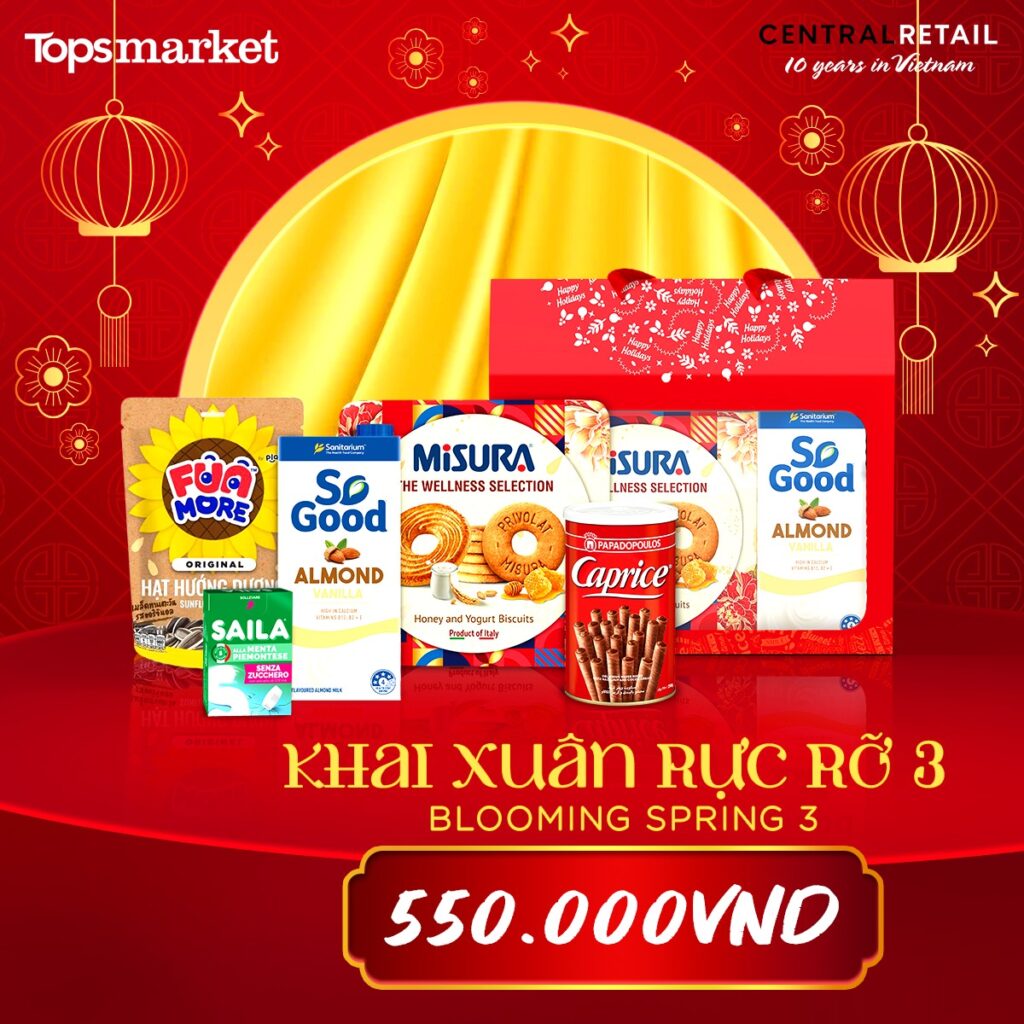 Blooming Spring: High-quality sweets, outstanding gift baskets for an impressive year opening.
Bên cạnh những giỏ quà "quốc dân" được nhiều người chọn lựa, vẫn sẽ cần những giỏ quà đặc biệt, dành cho những mối quan hệ đặc biệt. Khi ấy, cách chọn quà cũng sẽ thể hiện mức độ quan tâm, trân trọng của người tặng. Món quà phải độc đáo, sang trọng và đảm bảo giá trị sử dụng, thưởng thức tối ưu cho người nhận. Lúc này, những sản phẩm thượng hạng được chọn lựa kỹ càng của Tops Market sẽ là gợi ý tuyệt vời. Một số giỏ quà đặc biệt, được Tops Market chuẩn bị độc quyền như: Mỹ Vị Nước Đức; Hương Vị Nước Ý, Tinh Hoa Nước Ý; Châu Âu Thượng Hạng; Sô Cô La Hảo Hạng; Khẩu Vị Tinh Tế; Nhập Khẩu Thời Thượng; Cao Cấp Carrefour; Cao Cấp Waitrose…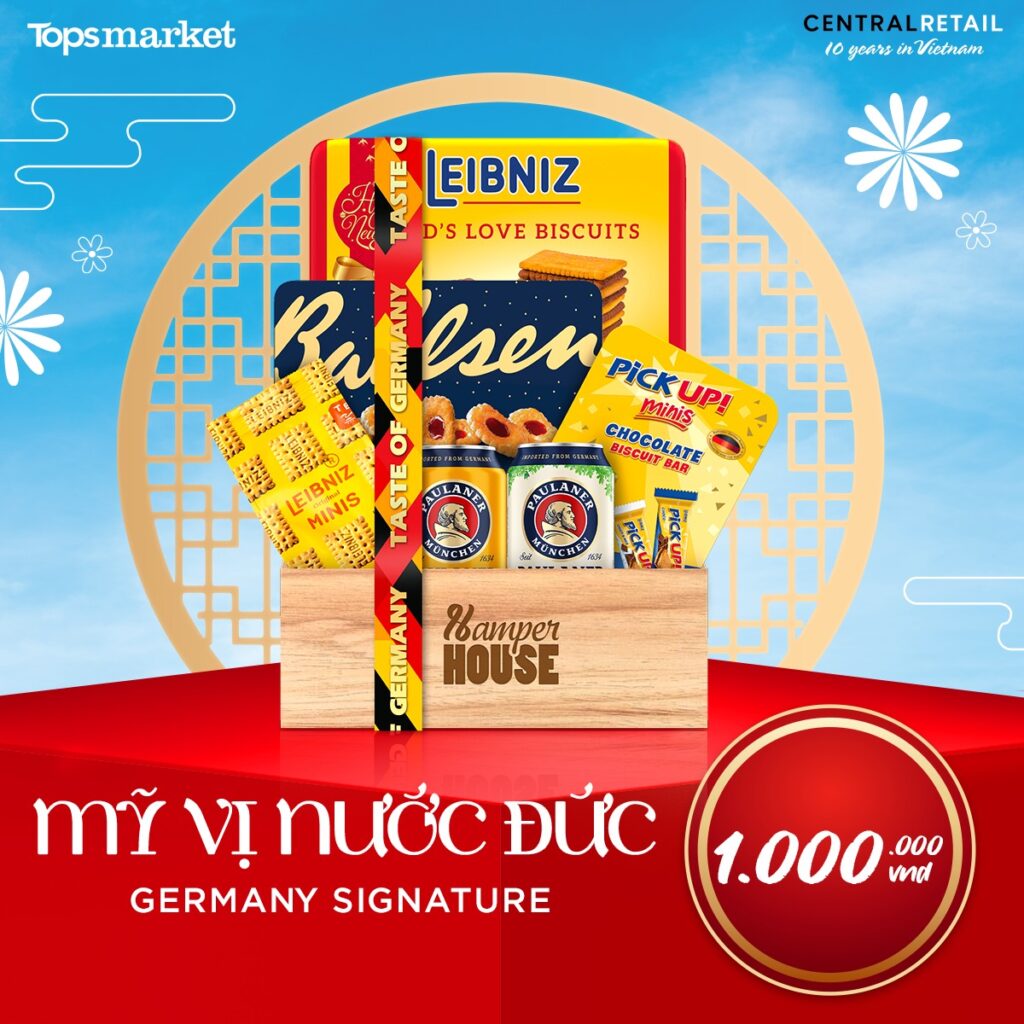 German Signature; Italian Delights, Authentic Italian Taste; Premium Europe Collection: High-quality imported products, suitable for recipients who love oversea taste and luxury feeling.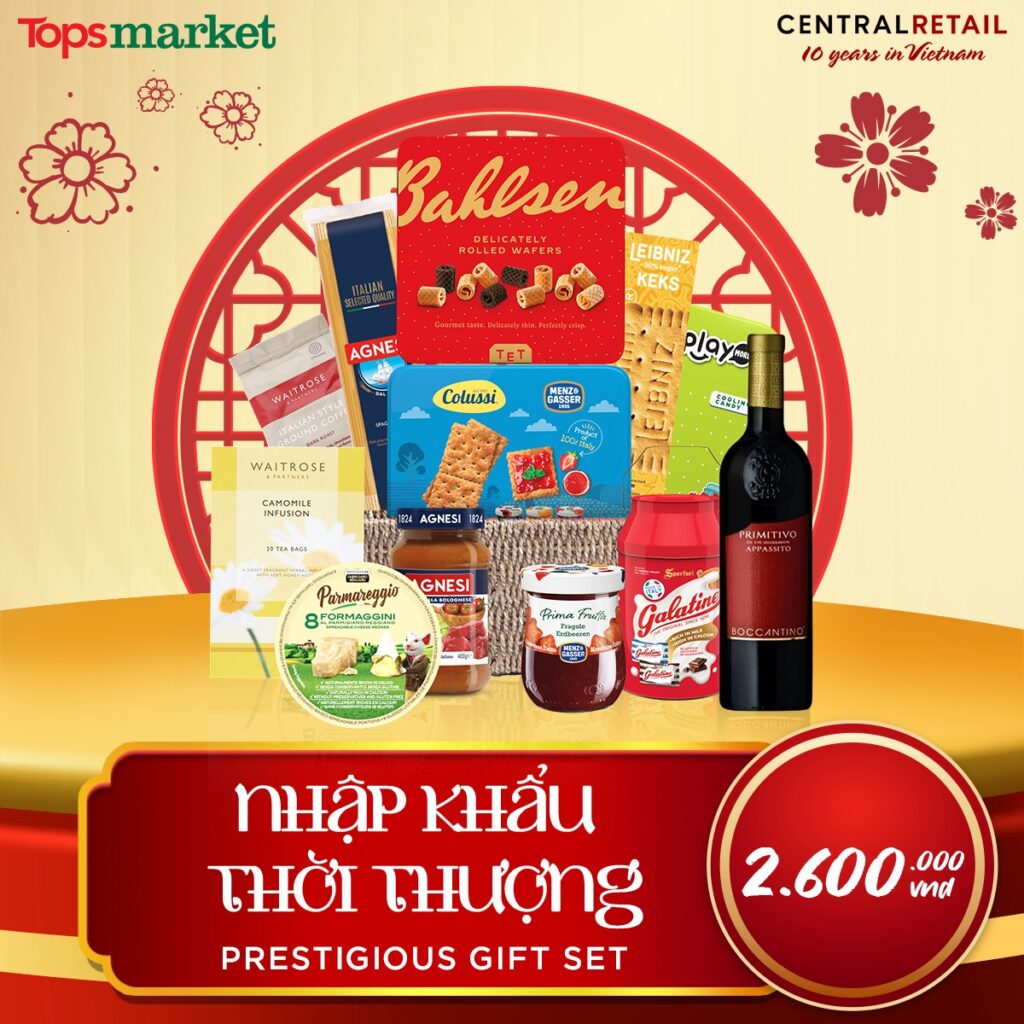 Exclusive Signature Delights; Prestigious Gift Set; Exclusive Carrefour Selections; Exclusive Waitrose Selections: Unique hampers, products imported exclusively by Tops Market will be an impressive New Year wish.
Choosing gifts is easy with Tops Market
Tet is coming very close. Everyone is busy preparing for a perfect new year. Start to prepare for your Tet by going to the nearest Tops Market and choose best hampers or contact the hotline to place a bulk order. Have a happy springtime with Tops Market.
Information box:
Tops Market offers you a huge discount according to the order value:
Orders from 5 million VND to less than 50 million VND: 8% discount.
Orders from 50 million VND to less than 100 million VND: 8.5% discount.
Orders from 100 million VND or more: 9%.
Go to the nearest Tops Market or contact the hotline for more details.